Type IV CNG Cylinder

The development of CNG Type IV cylinder has been the next step in the development of composite products. Metal free, polymer liner fully wrapped by carbon fibre for high pressure applications including CNG and Hydrogen.
LIGHT WEIGHT CNG CYLINDERS
Solutions for Green Energy
A Technological Breakthrough
TYPE IV CNG CYLINDERS : Carbon Fibre Wrapped Metal Free Cylinders
Evolution of Gas Cylinders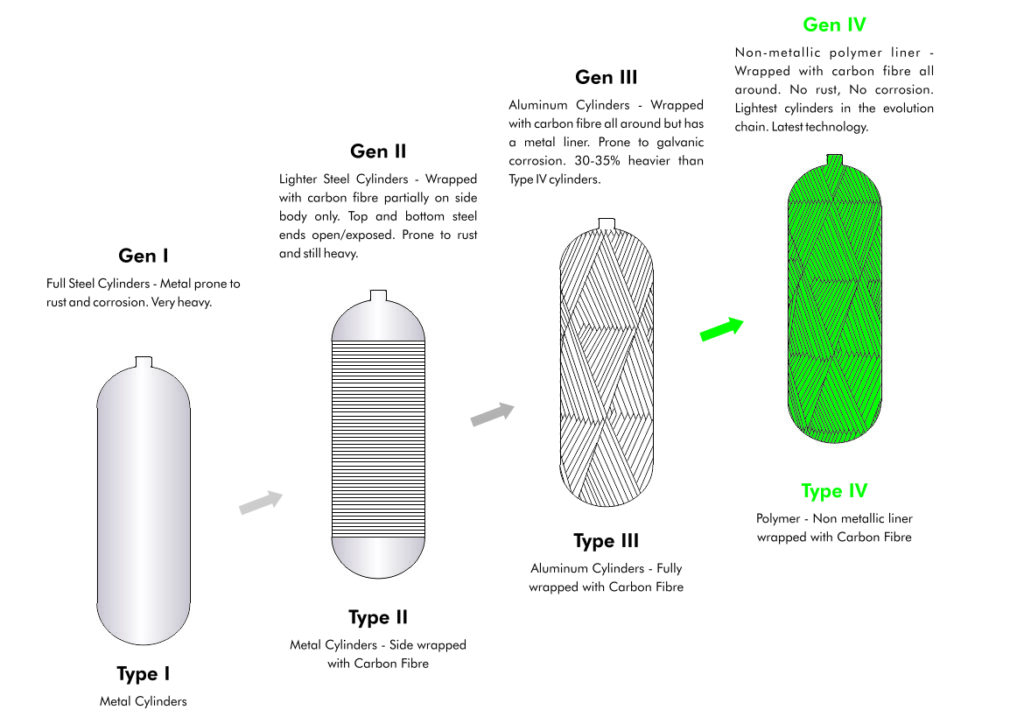 4th Generation Development Metal Free Liner Type IV Cylinders
Using highly advanced carbon fibre reinforced technology, NEX-G CNG composite cylinders are designed for high pressure applications.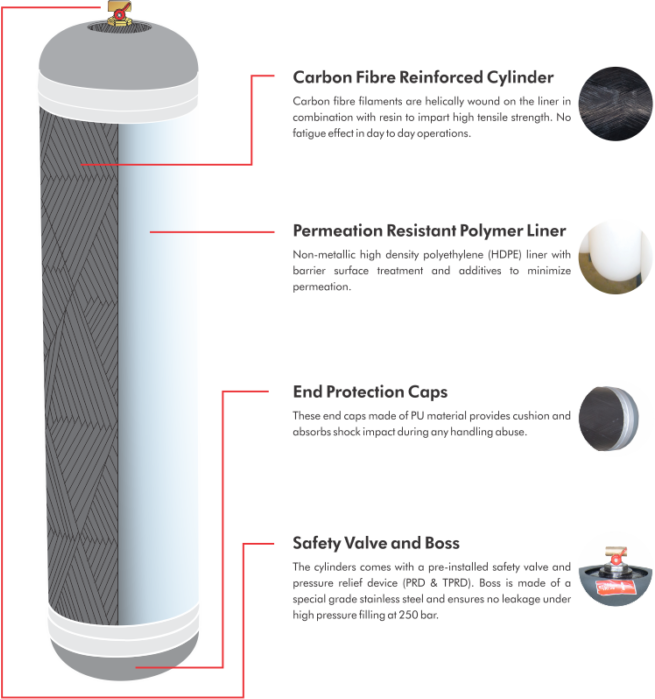 Sophisticated Manufacturing Facility Set-up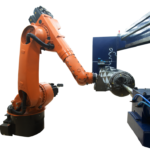 Highly automated and robotic process adopted for fast standard and high quality products. Full fledged state-of-the-art testing facilities set up for stringent testing of cylinders online and offline to ensure safety, reliability & its performance.
High Quality Stringent Tests and Certifications
High Performance Features That Make Cascades & Cylinders Unique
FEATURES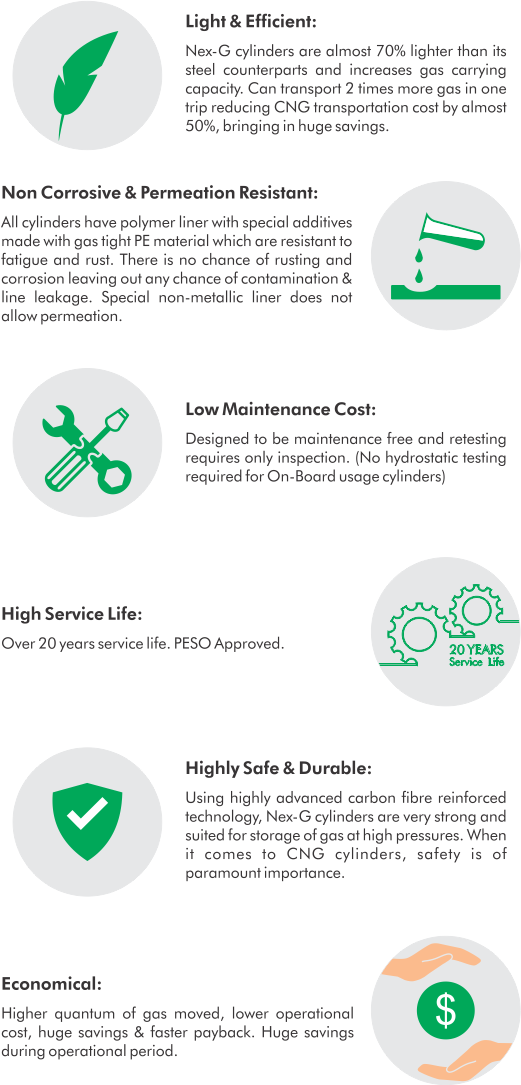 A World Of Difference
| | | |
| --- | --- | --- |
| Cascades | Type-I | Type-IV |
| Material of Construction | Made of Steel | Non-metallic inliner, fully wrapped with carbon fibre. |
| Cylinder Weight(9,000 Litre Capacity Cascade) | 13,200 Kgs | 2,538 kgs |
| CNG Carrying Capacity(Per Cascade as per Payload & RTO Norms) | 4,500 Litres | 9,360 Litres* |
| Residue Impact | Sulphur/H₂S residue, Corrodes Metal Cylinder. Maintenance Required. | Polymer inliner inert to all residues.Maintenance Free. |
| Standard | IS:7285 | ISO:11119-3 |
* Depending on the requirement, different optimum size cascades are available in different Water Liter Capacities. Reduce operating costs and maximize movement of maximum CNG.
On-Board
Type-I
Type-IV
Material of Construction
Made of Steel, Exposed to atmosphere and prone to corrosion.
Non-metallic cylinder fully wrapped with carbon fibre.
Standard Sizes
30 Litres – 35 kgs (Tare)
60 Litres – 65 kgs (Tare)
60 Litres – 16 kgs (Tare)
Cylinder Weight
Heavy weight cylinder. Huge additional
load on vehicle chassis.
Light weight cylinder, More driving comfort,
Higher service life to vehicles.
Residue Impact
Can result into engine seizure or
clogging of fuel lines. Prone to rust.
Inliner inerts to CNG residues S/H₂S.
No Rust, No Corrosion.
Vehicle Mileage
Lower mileage due to higher weight.
Higher mileage due to lower weight.
Cylinder Mounting
Heavy Weight – Limits the number of cylinders.
Light Weight – One or more cylinders
can be mounted increasing driving range.
Suspension Load
Higher wear and tear of
suspension and brake parts.
Lighter cylinder, lighter load on
suspension and brake parts.
Explosion Proof
Metal cylinders prone to explosion
in the event of fire.
Yes